Adobe Acrobat Reader: PDF Viewer, Editor & Creator
Adobe Acrobat Reader for PDF is a free application that allows users to open various files of PDF format, edit them, highlight important phrases, leave your comments, and perform many other actions, which are related to PDF format documents. You can also purchase the full version of the application to be able to use all the app features. Adobe Acrobat Reader for PDF is one of the most popular applications that allow users to open PDF files.
Functionality
The application provides you with many interesting options. After you start the app, you can create your account in order to save all the documents there. But you can skip this part. In that case, the documents will be only saved locally on your device.
To open the file, go to the "Files" section, and tap the storage you want to open. It can be your device, document cloud, or dropbox. After that, the application will find every PDF document you have saved. Select any document by tapping on it. You can also tap the + icon, and scan the document with the help of your camera. The "Home" section allows you to see recently used documents.
While reading the document, you can select the way of page view. The next icon allows you to search for a certain word or phrase in the document you read. You can also share the document by tapping the "Share" button. If you tap "More" (three dots icon), you will be able to add bookmarks, export PDF file, combine files, save the document to your document cloud, and print the file. If you tap on the "Pen" icon, you can leave your comment and edit PDF file.
Usability
Adobe Acrobat Reader for PDF is a cross-platform application, which means you can download it for iOS, Android, and Windows platforms. The features are the same on all platforms. Moreover, there is a dark theme available, which makes it comfortable to use the app at night. The text is clearly visible.
There are in-app purchases that allow users to use more features of Adobe Acrobat Reader for PDF. The full version of Adobe Acrobat Reader for PDF allows users to create files of PDF format from docs and images. You can also export your file to Microsoft Word, Excel or PowerPoint. Users can reorder and delete pages, edit text and images. The application works great. There are a lot of positive reviews in the Google Play Market and App Store.
Summary 5/5
Adobe Acrobat Reader for PDF is a great application that will help you to read files of PDF format. It is simple in use. Adobe Acrobat Reader for PDF has a straightforward design and many useful features. You can comfortably use the app without making in-app purchases, but if you want to use all the features, you can buy the full version of Adobe Acrobat Reader for PDF. We recommend you to download Adobe Acrobat Reader for PDF.
How much storage do you need?
Average app size in this category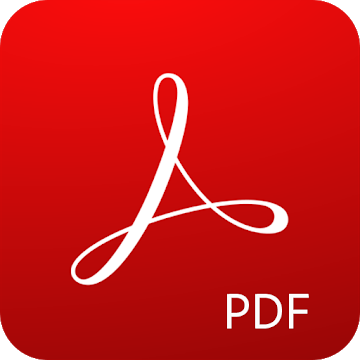 Adobe Acrobat Reader: PDF Viewer, Editor & Creator