Grand Theft Auto V
Grand Theft Auto V (GTA V) offers a fresh gaze at San Andreas, a place we last visited in 2004. This time, the game is bolder, more mature, and unflinchingly candid about the darker aspects of its world. The game is known for pushing boundaries and focusing on unique themes, and GTA V's multi-faceted storyline proudly carries this legacy forward.
Decoding the Intricate Gameplay
GTA V's gameplay holds a treasure trove of experiences for players. It deviates from its predecessors by allowing players to embody not one, but three main characters - Michael, Franklin, and Trevor - each with their strengths, weaknesses, and intriguing storylines. The narrative starts with a bank heist and moves forward to a decade later in a world full of crime, deceit, and redemption.
The game is open-ended, enabling players to immerse themselves in a myriad of side quests and explorations. The progression in the game is tied to the weapons you acquire, which unlock as you delve deeper into the story. While the gameplay is incredibly engaging, the task of leveling up each character in specific skills can become slightly tedious.
Unveiling the Aesthetics: Graphics and Environment
GTA V is a visual treat. The world of San Andreas comes alive with breathtaking detail, and the meticulously crafted environments reflect the game's authenticity. Whether it's the wind turbines in the desert or the Griffith Observatory, the game's locations never feel out of place. The textures, the design, and the overall aesthetics of the world create an immersive, believable universe for players to explore.
Sound Design and Music: An Auditory Journey
The audio design and music of the game also warrant particular recognition. The sounds of vehicles, weapons, and explosions are realistic and distinct. The radio stations, a staple of the GTA franchise, offer an eclectic mix of music styles, adding a vibrant layer to the overall auditory experience.
The Virtual Reality: GTA Online
GTA V also introduces GTA Online, a version of the game that brings together elements of the single-player mode and the unpredictable dynamics of the internet. It allows up to 30 characters in an open-world environment, providing a unique multiplayer experience. However, the online mode does pose some challenges for new players, who may find themselves at the mercy of experienced players.
The Grandeur of Grand Theft Auto V
Despite some minor drawbacks, the sheer grandeur and depth of Grand Theft Auto V make it an engaging and enjoyable experience. It's not just a game; it's a journey into a world that's as intricate as it is captivating.
Pros:
Engaging, multi-faceted storyline
Detailed and believable game world
Realistic sound design and diverse music options
Unique multiplayer experience with GTA Online
Cons:
Tedious character leveling
Challenges for new players in GTA Online
Lack of music accessibility outside vehicles
How much storage do you need?
Average app size in this category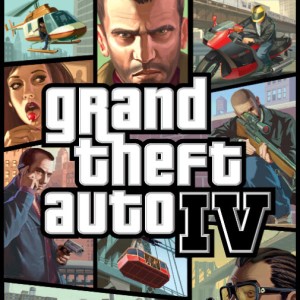 Grand Theft Auto V
Take a note. This app's size is bigger than the average in this category