Snakes and Ladders
Snakes and Ladders draw roots from the immortal classic, combining ancient wisdom and modern play-from-the-pocket approach. As a result, you get a beloved title revived and brought right to your device. Download Snakes and Ladders and test your luck!
Visuals and Sound 5.5/10
Snakes and Ladders plays a bit sloppy when it comes to picture & sound. It's probably decent for a game that you launch 2-3 times during a week, yet its visuals look bleak and insipid.
The game's board is presented as a static background, depicting serpents and ladders in different styles. There are themes inspired by both medieval, raja India and by something more modern and colorful. However, dice animation is quite generic.
Your playable token is designed as an emoji, expressing a random degree of happiness. Each time you make a lucky move — there will be a loud shout of delight. It sounds like it was borrowed from an anime, by the way. S&L soundtrack is composed of happy, sunny tracks that absorb ukuleles, guitars, handclaps and a lot of whistling. It'd be totally okay if the previously mentioned happiness shrieks didn't contrast the music harshly.
Above the board you'll find options to disable music, record the video of your playing, etc.
Controls 10/10
Basically, you're limited to tapping in S&L: your main goal is to roll the dice. As for the rest, the game requires very little effort, when it comes to controlling it.
Plot and Gameplay 8/10
The game's concept has remained unchanged — it is still the good old Snakes & Ladders. Competing players strive to get their tokens to the final square on the board. Snakes = evil. They hinder your headway and slow you down. Ladders = good. They are just like nitrous oxide in NFS, giving you a speed boost. The rest is to up the sweet Lady Fortune. Simply roll the dice and it will determine your next move.
This is where the real fun begins. Snakes and Ladders supports local gameplay. You can share it with your friends if they are in the same room, and just take turns passing the gadget. In case you have none of such a pal nearby — not to worry! AI will make you some company, but beware: it tends to be a charlatan. This is why a lot of players have been complaining about how hard it is to defeat Android in S&L.
Is it worth replaying? 6.5/10
This game has passed the test of time. And it's pretty enjoyable to play every now and then. Though this S&L version desperately lacks sleeker and polished audiovisuals. They do leave a flavorless aftertaste. But gameplay is still decent.
Bottom Line
This is the same beloved Snakes and Ladders game. And there's definitely something charming about it. More stylish design and online multiplayer wouldn't hurt to be had. As for the rest, it deserves to be tried — timeless classic never grows old.
Pros:
Low entry level
Entertaining for kids
Family-oriented
Medium difficulty
Cons:
Generic graphics$ Poor animations
Intrusive ads
How much storage do you need?
Average app size in this category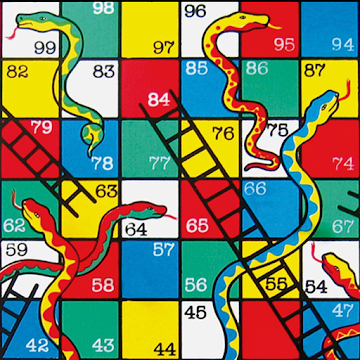 Snakes and Ladders