Hello Neighbor
Hello Neighbor is fun, but at the same time creepy survival horror game, where you will have to sneak into your neighbor's house, and then find his basement. The neighbor covers a big secret in the basement, and you will have to find the key to it and avoid various traps on your way there. Hello Neighbor was released in 2017 for PC. The game became popular in a short time thanks to the interesting gameplay and unusual graphics, so now you can download Hello Neighbor for Android, iOS, Windows, Nintendo Switch, PlayStation 4, and Xbox One platforms.
The Essence of Hello Neighbor 4/5
The main character saw his neighbor taking someone to the basement. The person never came back, so you decided to quietly get into the neighbor's house to see what happens there. But it is not easy to do, because if you make a lot of noise, your neighbor will catch you, and you will lose the game. But you try to run away from the man. In addition, you will have to avoid various traps, that were placed by the owner of the house.
The house of your neighbor is huge. It may seem that there are only a few rooms, but in fact, you will find a lot of secret paths. Your mission is to find the basement and the key to it. Various special abilities may help you during your gameplay. But to get them, you have to win different mini-games. You can get invisibility, double jump, and other abilities. You should pay attention to that it is not free to play the game.
Graphics and Audio 4/5
Hello Neighbor uses cartoonish 3D graphics. These graphical effects are not common for survival horror games. Nevertheless, the game may be scary as well as funny. Thanks to the unusual textures, the game became popular in a short time. It should be mentioned that in-game sounds perfectly suit the atmosphere. The music starts playing only when the neighbor sees you. The rest of the game you will hear your steps and different sounds of opening/closing doors.
Controls 5/5
Controls are pretty simple on every platform. If you decided to play the game on iOS or Android device, you should use the virtual joystick at the left side of the screen in order to move. You can jump, interact with various objects, and throw items by pressing the buttons that are located on the right side of the screen. The "Pause" button is located at the top right corner. These are the only buttons that you will see during the play.
Immersion
Hello Neighbor is a pretty unusual and gripping game, which allows players to show their creativity while solving different kinds of puzzles. The game is fun to play. Some of the episodes may be scary, but you will enjoy playing it even if you are not a fan of survival horror games.
Summary 4/5
We recommend you to download Hello Neighbor especially if you want to relax and have fun. The game is interesting to play and available for download on many platforms.
Pros:
Simple controls. Gripping gameplay. Many episodes
Cons:
Not an option for those, who are looking for dreadful horror games with a horrific atmosphere
How much storage do you need?
Average app size in this category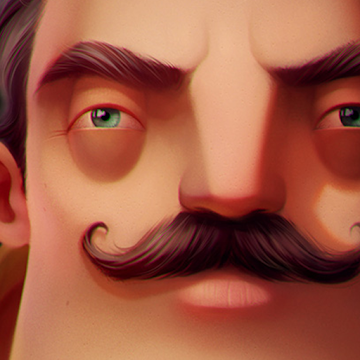 Hello Neighbor